Wandertrust
Mobile App Design
Co-Founder/UX Designer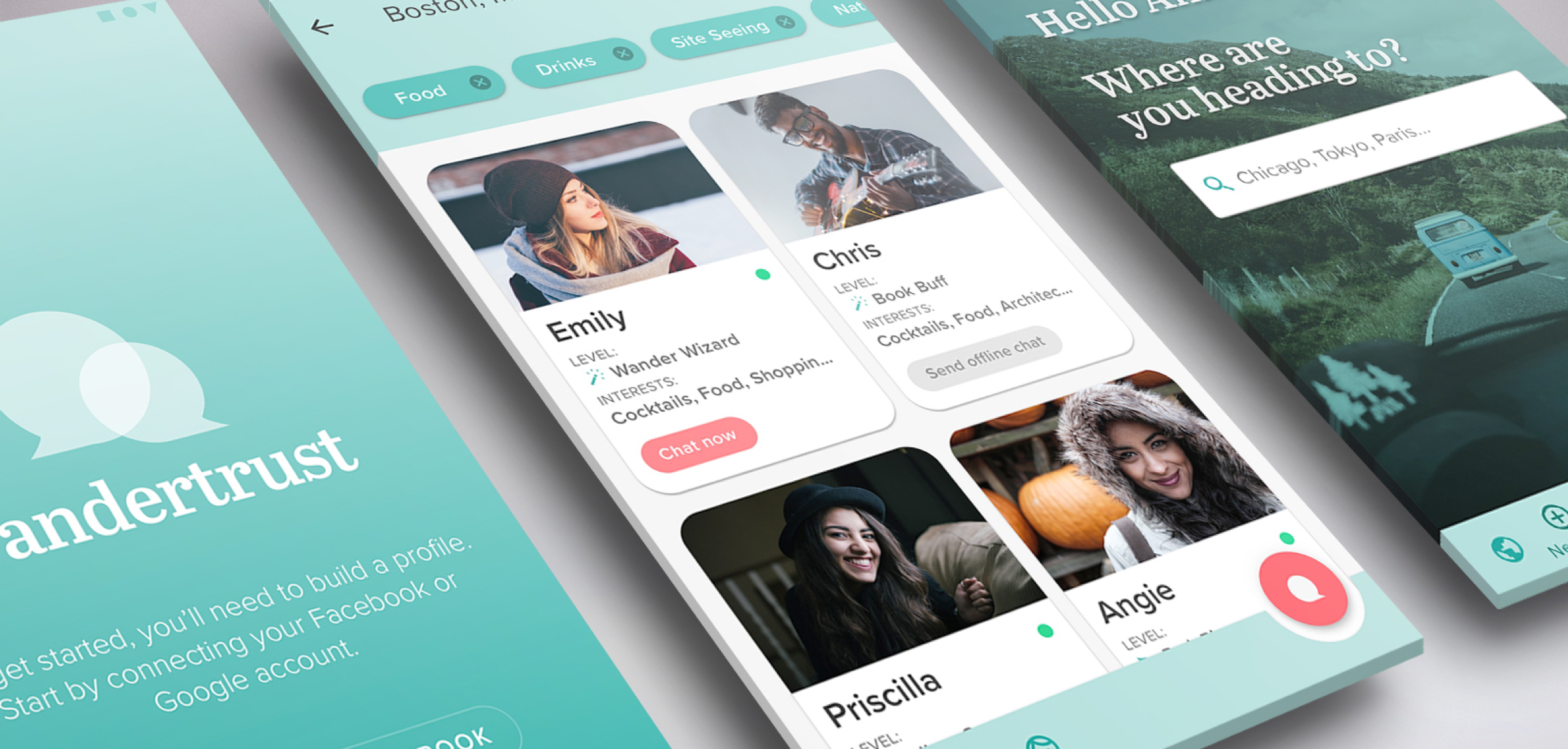 Wandertrust is an iOS and Android app that connects travelers with locals in a given area based on mutual interests. The app then allows the traveler and the local to send messages to each other and share recommendations.
MY ROLE_
I was one of four female co-founders and the only designer on the Wandertrust team.
THE
CHALLENGE_
On March 18th, 2016 Pittsburgh's first Startup Weekend: Women's Edition began. The goal of the weekend was to bring together women of diverse backgrounds to create a startup concept in a 54-hour sprint. The weekend began with a series of concept pitches. I pitched the idea for the Wandertrust app and went on to refine and develop the idea with a team of three other women for 3 days.
DETAILS_
client
Independent Project
role
Co-Founder/ UX Designer
year
2016
type
iOS App, Android App, Startup Business
THE
CONCEPT_
I had identified an issue with the travel industry as a whole that revolved around reviews and recommendations. Travel reviews and recommendations had become untrustworthy. Ratings were skewed by paid content and false reviews, and many sources had a tendency to direct the user straight to tourist traps. My team's solution to this problem was to create an application that connects travelers with locals in a given location based on mutual interests and prompt a conversation.
APPROACH_
Identify a market
The idea of making travel reviews trustworthy is an idea that has broad appeal. But for the purpose of this project, and the formulation of a business plan, a target market for launch had to be identified.
We conducted our preliminary market research via online surveys and street interviews. Based on the sample data we were able to collect on our limited timeline, we determined an initial target market of millennials users, ages 18-35. Millennials account for 26% of the population and tend to travel 1-2 times a year.
This interview/survey method also validated our assumption that travelers are much more likely to trust a recommendation from a friend or someone that they can communicate with one-on-one, than a recommendation from a review site.
Verify users
In order to keep the recommendations authentic, we needed a way to ensure that the apps users were real people rather than bots or paid advertisers. We also needed to quickly identify the new user's interests and where they were traveling to. Our mechanism needed to work for onboarding locals as well as travelers.
We added Facebook connect as the first step of the on-boarding process. Facebook verifies that the account is real and also serves as a source of interest matching data. The users also have the option to connect through a Google account, where we can leverage much of the same types of information as Facebook.
After authenticating through Facebook or Google the user is prompted to input the location they are visiting, when they are traveling, and what they are generally interested in when traveling. Once the user creates a Traveler profile, they are automatically entered into the system as a Local for their home location.
 
The rating system
In order for the app to generate revenue, it needed to have accommodations for sponsor posts and advertising. To accomplish this we devised a rating system based on user engagement.
When a user visits a location that was recommended to them, they are prompted to review both the place they visit and the person who recommended it. If a location or event is reviewed poorly, it becomes buried further in the list of suggested places for the Local user to recommend to the Traveling user. If a Local user is reviewed poorly, they fall lower on the list of potential matches to any new Traveling user.
Incentivizing users
The local users need to be incentivized to participate in the recommendation system. We needed a way to make it worthwhile for Locals users to engage with the app when they are not traveling.
To motivate local users we incorporated a gamification system. The local earn badges as they are rated by traveling users. When a user earns a badge, they are also rewarded with a gift from a sponsor. For example, if the Local user earns a "Caffeine Crusader" badge, they are rewarded with a $5 Starbucks gift card. This motivates the user to keep coming back to the app and to make on-target recommendations and earn rewards.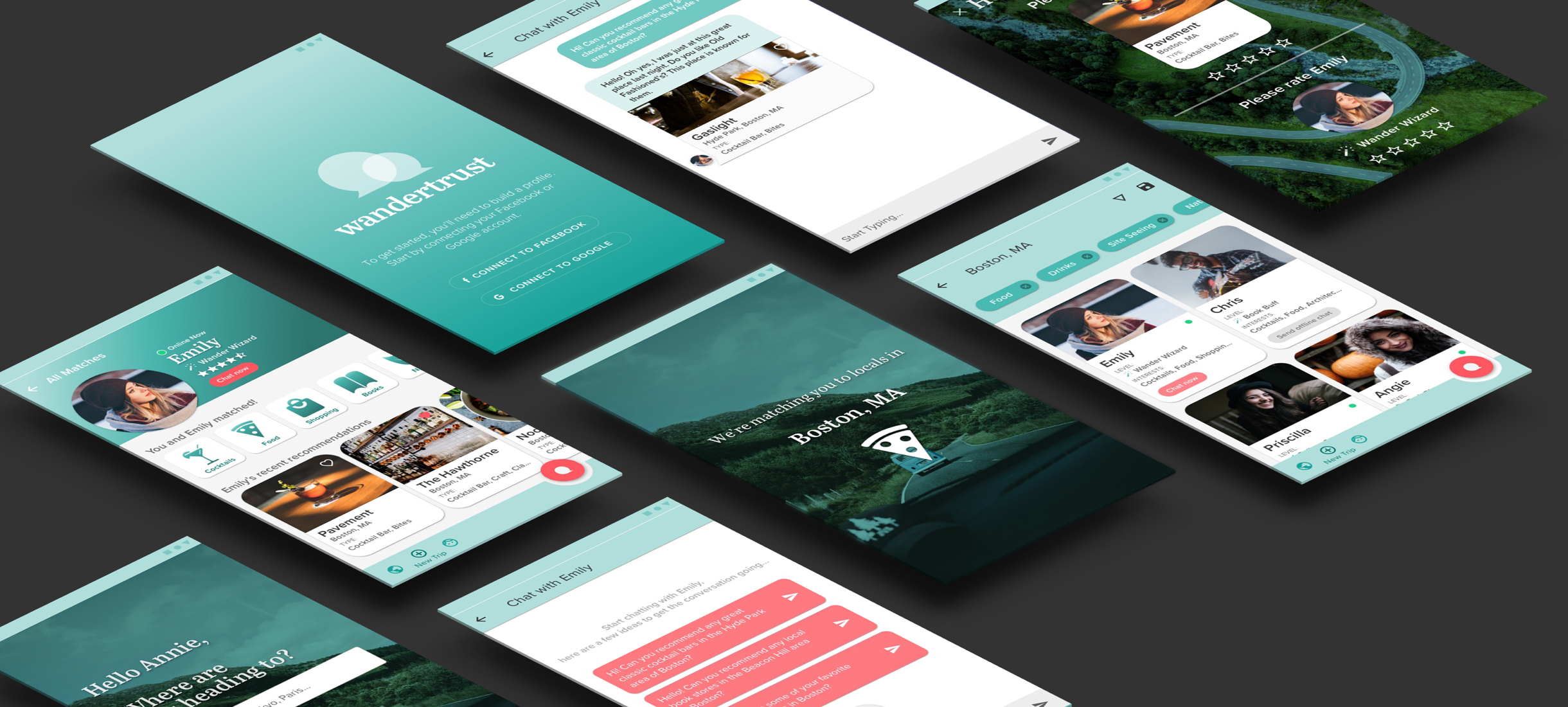 Wandertrust won Crowd Favorite at Startup Weekend. Due to the tremendous amount of support and enthusiasm we received, my co-founders and I are exploring the idea of continuing the exercise and building out a full working prototype.